Dozens of Houthi fighters killed on Yemen's northern border
Comments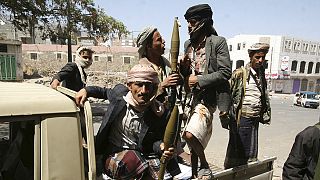 Air strikes and artillery fire rocked the Yemeni city of Aden overnight as combatants battled for control of the main airport in fighting residents said was the worst in over a month of war.
Iran-allied Houthi rebels and local militiamen traded tank and mortar salvos near the airport from Wednesday evening into Thursday and warplanes from a Saudi-led coalition of Arab states bombed Houthi positions.
On the border with Saudi Arabia, a shell fired from Yemen killed a patrolling Saudi border guard on Thursday morning, the kingdom's interior ministry said, bringing the number of Saudi casualties in the campaign to 11.
Residents said dozens of families fled, braving Houthi sniper fire and checkpoints as homes were shelled and burned.
"The scene is disastrous, not just in the streets where fighting is going on but inside houses where families are often trapped and terrified," local activist Ahmed al-Awgari said.
"Women and children have been burnt in their homes, civilians have been shot in the streets or blown up by tank fire," he added.
Scores of residents and fighters from both sides have been killed throughout the conflict, and residents said at least six Houthis and two local militiamen were killed overnight.