Woman and teenage boy rescued five days after Nepal quake
Comments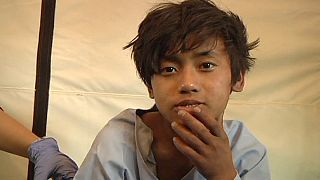 Five days after Nepal's earthquake, a double miracle has occurred.
A young woman has been pulled from the rubble in Kathmandu just hours after a teenage boy was also plucked from the debris by rescuers.
A teen boy was rescued from a building that collapsed around him in the #NepalEarthquake. http://t.co/6SHa1ZyTTNpic.twitter.com/BRo0Ji7rIV

— ABC7 News (@abc7newsBayArea) April 30, 2015
Now being treated at an Israeli field hospital, Pemba Tamang, 15, is recovering remarkably well.
While buried alive, he says he survived by eating from a dish of butter he had discovered in the darkness.
Pemba, now receiving food and fluids, didn't think he would live.
"Sometimes I felt aftershocks and I could hear the sound of bulldozers," he said.
"All of a sudden I saw light and I was conscious. I thought I was hallucinating."
Amid the debris of the mountain village of Katteldada near the epicentre of Saturday's massive quake, there is growing frustration over the time it is taking for help to arrive.
"Our properties are lost due to the earthquake, our bedding, our animals, our clothes… All are lost but our government is not providing any help to us," said local teacher Shim Bahkta Kattel.
The death toll is now nearing 6,000.
Our mountains and temples has been pulverised, but #Nepal will rise again, writes @AnjyRajyhttp://t.co/DKJh9d1Xq7pic.twitter.com/1ADBBtcHu1

— Nepali Times (@nepalitimes) April 27, 2015
Yet only when more aid reaches Nepal's far-flung towns and villages will the true extent of the damage and loss of life fully come to light.