Europeans fly home from Nepal earthquake nightmare
Comments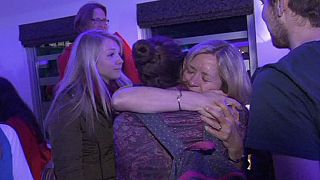 More than 100 British survivors were reunited with loved ones in London early on Thursday, after flying out of Nepal.
One dual national has been confirmed dead in Saturday's earthquake.
Amid emotional scenes at London's Stansted Airport, those who survived the disaster described their experiences.
Nepal earthquake: Stranded Britons reunited with loved-ones at Stansted airport http://t.co/K8HWUD7LFxpic.twitter.com/eu1WvtMf6p

— Telegraph News (@TelegraphNews) April 30, 2015
"We were lucky enough that we were in a building that was stable when it happened and we got to a safe place very quickly, unlike a lot of people," one young woman told reporters.
There were strong emotions, too, for Italians flying into Milan minus two members of a climbing group who had lost their lives in the disaster.
"There was an avalanche of rocks," climber Iolanda Mattevi told journalists, her arms heavily bandaged.
"My friend saw a big stone and instinctively took refuge behind it. And he was not injured. But I was hit by a rock head on. In these moments you don't think. I prayed, I cried. I don't know."
More than 200 mainly French nationals arrived on a flight to Charles de Gaulle Airport in Paris early on Thursday, with many thoughts turned towards those left behind.
"I feel like I'm going to break down," said one woman, struggling to hold back the tears.
"I have kept going until now. I am especially upset because it's my 23rd, 24th trip to Nepal and I have a lot of friends there "
Foreign Minister Laurent Fabius who was at the airport to meet those returning, confirmed a third French death.
Efforts continue to contact more than 260 French nationals still unaccounted for.