Many people killed and injured in powerful quake in Nepal
Comments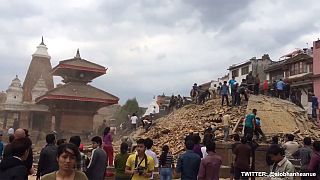 Scores of people have been killed and many injured in a powerful earthquake in Nepal.
The shallow 7.9 magnitude quake was centred about 100 kilometres west of the capital.
As rescue efforts get underway, it is difficult to ascertain the exact number of casualties.
But reporters on the ground say the death toll is likely to be high.
Hospitals have been inundated with injured people.
One latest report from the police (1300 CET) said the death toll stood at 450, but many collapsed buildings are yet to be searched.
Many outlying areas have also still not been reached.
The worst affected area hit is between Kathmandu and Pokhora.
Many people are trapped in the rubble of collapsed buildings, including ancient temples.
The 19th century Dharahara tower in Kathmandu has been destroyed.
An avalanche also occured on Mount Everest, killing numerous people. The base camp is reported to have been partially buried.
Most of the images of destruction being broadcast on local television are in the capital.
However, there is no word yet from towns near the epicentre of the quake.
Tremors were felt as far away as New Delhi and other cities in northern India, as well as in Bangladesh.
Kathmandu temples destroyed by earthquake. pic.twitter.com/CwvAZVsiER

— Siobhan Heanue (@siobhanheanue) April 25, 2015
BASANTAPURDURBARSQUARE IS GONE!!! pic.twitter.com/HnauT0fDia

— Kashish Das Shrestha (@kashishds) April 25, 2015
EMERGENCY: 4 locals trapped in this rubble INSIDEPALTANGHAR in ASON. pic.twitter.com/15HZP4zbBL

— Kashish Das Shrestha (@kashishds) April 25, 2015
Terrible #earthquake in #Nepal. Just saved ourselves. Don't know how many killed. Roads are blocked already. pic.twitter.com/qsxITz0n1P

— Guna Raj Luitel (@gunaraj) April 25, 2015
This is seriously scary!! #earthquake#kathmandu#nepalpic.twitter.com/2zwQ0iw13u

— Masoom Vyas (@masoomvyas) April 25, 2015
#Dharahara (Bhimsen Tower) the 19th century, 9-storey tall tower in #Kathmandu, has collapsed b/c #Nepalquake#Nepalpic.twitter.com/A7tbEx3RIv

— Stefan Simanowitz (@StefSimanowitz) April 25, 2015