Nepal quake also causes panic in India and Bangladesh
Comments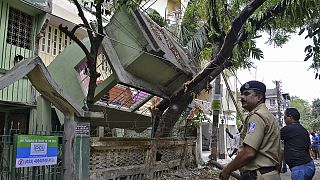 The deadly earthquake that struck Nepal was also felt as far away as New Delhi and other cities in northern India, as well as in Bangladesh.
There are reports of damage in some locations and numerous deaths in India are reported.
"Everything started to sway and my vehicle was moving around," said one man in West Bangal.
"It almost tipped over. Then I realised it was an earthquake. The tremors were very strong."
Another man said: "I felt strong tremors. It happened at about 11.45 in the morning local time. The building started to sway and we quickly came down from the seventh floor."
There have been numerous aftershocks following the big quake, making the search for survivors amongst the rubble dangerous.