Ukraine miners demand help for their industry in Kyiv protest
Comments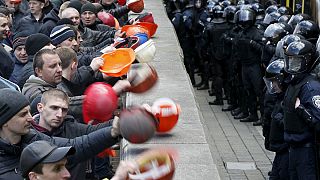 Amid a country in conflict, their industry is in crisis…and Ukraine's miners are making themselves heard.
From the west and war-torn east, hundreds gathered in Kyiv – breaking through police lines in a protest near the president's office and banging their helmets on the ground.
Our correspondent in the Ukrainian capital, Dmytro Polonsky, said: "Miners are demanding the restitution of their mines, an increase in salaries, restoration of state subsidies and the dismissal of the Energy and Coal Minister Volodymyr Demchyshyn who has said at least three state-owned mines must be closed."
Safety is a major concern. Just last month 33 miners died
in a methane gas explosion in the east.
Denouncing security standards underground, one miner told euronews that they're not in a position to buy equipment for tunnelling or mining.
"We are risking our lives to give coal to the state and earn money for our families," he said.
"How do I explain to my four-year-old child that I can't buy food for him?"
But it is hard to see where the money will come from.
Reliant on international aid to avoid bankruptcy, Ukraine is facing near economic collapse and a plunging currency as well as the conflict with rebels in its east.