EU under pressure to prevent Mediterranean Sea deaths
Comments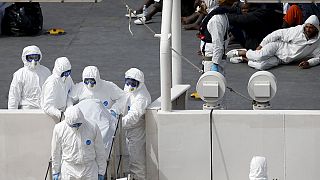 As news broke of another migrant ship sinking off the Greek island of Rhodes an Italian patrol ship docked in Malta.
The corpses of 24 people recovered out of hundreds feared drowned were offloaded by search and rescue workers after a migrant boat capsized in the Mediterranean. The migrants, desperately fleeing fighting in Libya, had been packed into rickety boats by human traffickers to cross the Mediterranean.
Bodies that shame us all from Sat's #migrant tragedy off #Libya being transferred to #Malta. Photo: mattmirabelli</a> <a href="http://t.co/ArdnSxqjw2">pic.twitter.com/ArdnSxqjw2</a></p>&mdash; Mark Micallef (mmic78) April 20, 2015
There are many reason for the rising casualties," explained Flavio di Giacomo from the International Organisation for Migration. "Firstly, the vessels the human traffickers are using have become increasing worn out.
"Secondly, it's more challenging to conduct massive rescue operations now. Last year the Italian government carried out the Mare Nostrum rescue mission. That monitored rescue operations over the entire sea, but it has been cancelled."
The IOM estimated around 20,000 migrants had reached the Italian coast this year. Before this weekend, it said 900 people had died.
The EU is under increasing pressure to take appropriate measures to tackle the ongoing humanitarian tragedy and prevent further deaths.
Rescue op for migrant shipwreck in Rhodes today, 3 dead, including a 6 y.o boy https://t.co/yLYcQGrPjEhttps://t.co/M2S74FQBea#Greece

— reported.ly (@reportedly) April 20, 2015