South Korean police clash with ferry victim relatives
Comments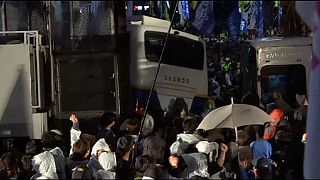 The relatives of some of the hundreds of people who drowned during last year's Sewol ferry disaster have clashed with South Korean police during angry protests in Seoul.
Thousands of people took to the streets and tried to take their protest to the presidential palace. About 13,000 police deployed in the area blocked their way and 100 protesters were arrested.
The families are demanding that the government salvage the ship's wreckage and launch an independent inquiry into the sinking.
Saturday's (April 18) protest was the largest in recent weeks as the country marked the first anniversary of the April 16 disaster.