Xylella fastidiosa bacteria discovered in wholesale market near Paris
Comments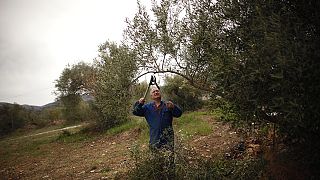 A coffee plant at a wholesale market close to Paris has been discovered to contain a deadly bacterium which has led to the destruction of olive trees in Italy.
The announcement, from the French Ministry of Agriculture has raised fears the bacteria could spread to the country's vineyards.
The xylella fastidiosa bacterium is believed to come from South America and is spread by an insect. It is reckoned to have infected up to a million olive trees in the last two years.
France has stopped importing any food products related to olive oil from the Apulia region. The outbreak has raised concerns in Corsica.
The island is the main producer of olive oil in France. The European Union has warned Italy it must step up its efforts to contain the bacterial disease.
Destroying the trees in Italy and spray the ground with insecticide has met with protests by growers whose livelihood they say is threatened.