Hungary: Far-right Jobbik wins first individual constituency seat
Comments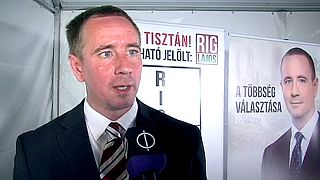 Hungary's far-right Jobbik Party has won its first ever individual constituency seat in parliament, preliminary results show.
I think the locals have decided who to trust.
With 99 percent of the votes counted, Jobbik stood at 35.3 percent to the ruling Fidesz Party's 34.4.
Lajos Rig snatched the seat in the western town of Tapolca with a majority of just under 100 votes.
It is a narrow victory, but one that represents the second straight by-election loss for Prime Minister Viktor Orban's government in two months.
"It was really close," said Rig. "We were excited. Not only me, but my opponents, too. I think the locals have decided who to trust."
Jobbik has grown in popularity in recent years, feeding off a series of policy blunders by Fidesz.
#Tapolca by-elec: Jobbik celebrates, prez Gábor Vona says their policy is legitimized, Jobbik able to be next gov pic.twitter.com/oalZD1NBb5

— Mariann Őry (@otmarianna) April 12, 2015
Considered Europe's most successful nationalist party, Jobbik has softened its rhetoric in recent months in the hope of attracting mainstream voters ahead of the 2018 general election.
The party looks set to pose a real challenge to Fidesz. Although the ruling party won an easy victory in 2014, it had lost its two-thirds parliamentary majority by February 2015, with another by-election setback.