From black-clad marchers taking part in solemn, flame-lit rallies to posing with puppies in sun-bathed parks – Jobbik, the Hungarian far right party, has undergone an extensive make-over in an attempt to broaden its support base. The party feels the time is right for it to make an impact as, with the ruling Fidesz party hemorrhaging support, there is something of a growing political vacuum developing in Hungary. And the charm offensive seems to be working: anti-Semite or not, Jobbik has became the biggest rival for the ruling party.
Jobbik seems to be competing for the trust of young people just as much as for those, older and disillusioned, who have turned their backs on politics.
Recent mid-term elections saw Fidesz – national conservative and populist – lose its two-third majority in the Hungarian Parliament. Jobbik, though, is on the rise. According to Ipsos Opinion Research Institute's latest polls since last October, Fidesz has lost almost 40 percent of its voters while Jobbik's popularity has hit a new peak. According to Ipsos, Jobbik has the support of 18% of the electorate to Fidesz's 21% (although a Median poll puts Jobbik on 15% and Fidesz at 24%).
A leopard changing its spots
Looking at these trends, Jobbik seems to be profiting from the the cloud of scandals hovering above Fidesz and Prime Minister Viktor Orbán. Fidesz faces a similar plight in Hungary to that of Nicolas Sarkozy's
UMP
in France – with its resurgent far-right Front National – before the 2012 presidential election. The leader of Jobbik, Gábor Vona, has made refining his party's communication strategy a priority, just as Marine Le Pen did upon taking the party leadership.
Compare for example the two Jobbik promotional videos at the bottom of this script, one from 2010 and the other from 2013. Three years is a long, long time in politics.
Those efforts may soon bear fruit for Jobbik. There is a crucial by-election on April 12 in an electoral district in western Hungary in which the two parties' candidates are neck-and-neck. If the Jobbik candidate wins, it would make it even harder for the ruling Fidesz-KDNP alliance to pass fundamental laws in parliament (Editor's note 13/04/2015: the by-election was won by the Jobbik candidate).
Only as far back as a couple of years ago Jobbik was known for its harsh, anti-Semitic and openly racist statements. Nowadays the party focuses on sending positive messages: they claim to be the only party in Hungary that is not corrupt, and the only one that cares about people's problem. The new strategy meant a change in physical appearances too, judging by the evolution in Gabor Vona's fashion and demeanour. It appears the new strategy to appeal to voters is built around two adjectives: elegance and cuteness, neither of which would have been associated with his party in its early years.
For example, it would have been unthinkable back when the Hungarian Guard (the paramilitary wing of Jobbik) organised marches in villages to see a photo of the party leader smiling with puppets, or to have seen him wearing a suit. He even launched a photo competition among his Facebook fans: they were asked to send pictures of themselves posing with their pets. The prize? Lunch with Gabor Vona in Hungary's handsomely Gothic Parliament building.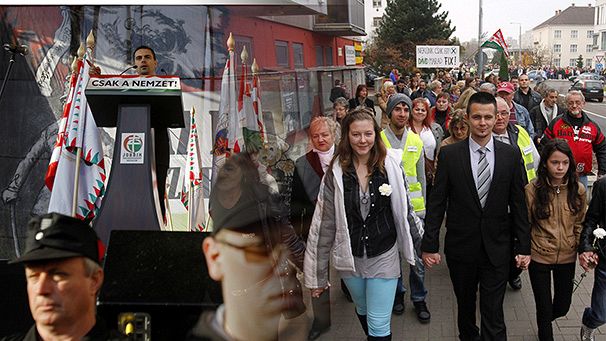 Vona insists it is no trick or gimmick for the sake of the cameras. He told Reuters: "Our opponents may say this is only a media hack or a false turn, but time will tell." He added the he wanted to transform Jobbik into a people's party and to be able to do this, he knew what was necessary. He knew "when and where to draw the line."
Not all members towing the new party line
However some members of the party seem not to have received Vona's memo; there are signs that not everybody has broken with the 'original values' of Jobbik. While Vona was donning his suit and behaving like a perfect gentleman, one of his party members was still making racist posts on Facebook.
One such post
praises an article which describes Roma people as "biological weapon of the Jews", and it was not just any old member. They were the words of none other than Jobbik's candidate for this April's by-election, Lajos Rig. When the post went viral he deleted it, claiming he did not remember what he shared on his wall.
It was not the first time that the wolf in sheep's clothing forgot to get dressed. A Jobbik town council member in the south-eastern Hungarian town of Mezőtúr, János Kötél, posted about the execution of Roma people and about hanging politicians. Vona tried to distance Jobbik from these views, and forced Kötél to live with a Roma member of the party for three days. However media reports revealed later that the Roma man in question had some anti-Semite posts on his Facebook wall as well.
There are many skeletons in the closet that occasionally come back to haunt the new-look Jobbik: it was revealed recently that a couple of years ago MP Gergely Kulcsár had spat into one of the Holocaust memorial bronze shoes placed on the bank of the Danube. The reaction was swift: Kulcsár was sent by Vona back to the scene to pay his tribute immediately.
The big question in the bigger picture is whether Jobbik will be main challenger to Fidesz in 2018, the year of Hungary's next general election. The answer might very easily be "yes" if the smarter new political power manages to charm people into forgetting the party's former, ugly self.
Jobbik's 2010 electoral campaign video

Jobbik's 2013 promotional video