Romanian police find 'black cocaine' hidden in furniture
Comments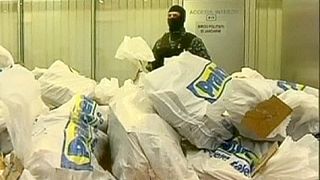 Police in Romania have seized 70 kilos of cocaine worth an estimated four million euros all hidden in pieces of furniture imported from Germany.
The drugs were imported from Ecuador and passed through Hamburg before arriving in the Romanian port of Constanta.
The cocaine had been mixed with other substances turning it black and making it undetectable with the usual tests.
The find was the result of collaboration between German customs the UK National Crime Agency and Spanish authorities.
Three men, a Colombian, a Venezuelan and a Romanian, have been arrested in relation to the smuggling.