At least 5 dead in Afghan court attack
Comments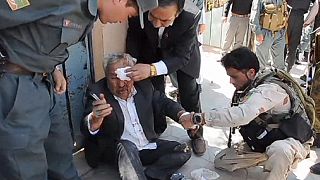 Afghan officials say at least five people were killed when gunmen stormed a government compound in the northern city of Mazar-i-Sharif. Unconfirmed reports place the death toll at between ten and 20, including the attackers.
The provincial governor's office says the district police chief is among the dead. Several dozen people are said to have been injured in the attack.
Taliban militants have claimed responsibility for the assault.
What happened?
Insurgents armed with rocket-propelled grenades and other weapons stormed a court in the compound on Thursday morning (April 9), according to Mohammadullah, a local police official. Gunfire continued for at least six hours, late into the afternoon.
According to the Interior Ministry, police rescued dozens of people during the shootout, including the chief prosecutor.
While insider attacks in Afghanistan have declined since most foreign troops withdrew at the end of 2014, insurgents have increased assaults on government targets.