Ukrainian president lifts objections to referendum on state structure
Comments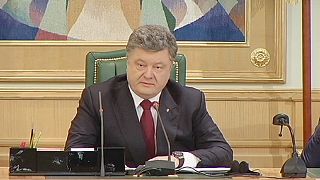 The Ukrainian President says he is ready to hold a referendum on the future structure of the state, apparently lifting earlier objections.
But Petro Poroshenko has told a constitutional reform committee that he is still opposed to the idea of federalisation, as advocated by Russia.
"For those who want to talk about federalisation we have an instrument called a referendum," he said. "And I'm ready to launch a referendum on Ukraine's state structure if you think this is necessary."
Poroshenko says although decentralisation is being talked about, Ukraine will remain what he calls a "unitary state".
The Ukrainian Prime Minister, Arseniy Yatsenyuk, said: "A new constitution must consult the interests of the entire state – from west to east.
"And if we're talking about our dialogue with the east, we're ready to conduct the dialogue only with legally elected representatives of the east, not with Russian criminals and terrorists."
Kyiv says any decentralisation of powers to the eastern regions, where Russian-backed separatists have been fighting government troops, would not include security, defence or foreign policy.
Poroshenko ready for referendum on Ukraine's state system http://t.co/ge2uJcu3VSpic.twitter.com/VOwJeFNeln

— Ukrainian News (@24todayneteng) April 6, 2015
Poroshenko agrees to a referendum, potentially giving autonomy to eastern Ukraine: http://t.co/UEFunWSERV.

— Preventive Action (@CFR_CPA) April 6, 2015
Poroshenko raises decentralisation referendum but rebels reject: Ukrainian President Petro Poroshenko on Mond… http://t.co/xgPyeHLkg6

— Balagopal Hegde (@BalagopalHegd) April 6, 2015
Poroshenko raises decentralisation referendum but rebels reject http://t.co/cnrgtnhiEx

— The Guardian Nigeria (@NGRGUARDIANNEWS) April 6, 2015