French forces rescue Dutch hostage Sjaak Rijke in Mali
Comments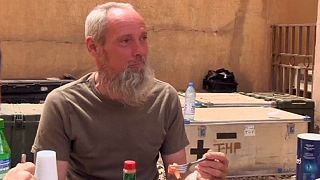 The French army have released footage showing a freed Dutch hostage who was rescued on Monday (April 6) during a special forces attack on a militant group in Mali.
Sjaak Rijke had been kidnapped nearly four years ago in the northern town of Timbuktu by the group.
French President Francois Hollande said the French special forces operation was not designed to free Rijke and they found him by chance.
"It was a surprise for us, for our forces, to be able to free this hostage, as we didn't have any information about his presence," said Hollande. "But knowing the existence of this terrorist group, the fact that we were able to launch an attack, preserving his life, it's really satisfactory."
Rijke was safely evacuated to a French operating base in Tessalit, the military said.
The French authorities did not identify who had been holding Rijke, but the Dutchman appeared in a video posted in November by al-Qaeda in the Islamic Maghreb (AQIM).
Rijke was abducted in November 2011 from a hotel during a dream holiday across the Sahara with his wife. She managed to escape
Rijke was taken with Timbuktu along with Johan Gustafsson of Sweden and South African Stephen Malcolm.
Officials in France and the Netherlands did not say whether there was any news of Gustafsson or Malcolm after Monday's operation.
Rijke's neighbours in the Dutch city of Woerden were happy to hear news of his release. Some said they would hang out flags for his return home.
Colleagues of 54-year old train conductor said that he had not be forgotten.
"I hope that he will be able to pick up his life again," said one of his co-workers. "Whether that's in his job with the trains or somewhere else. I hope he will find happiness again."