Conservative candidate switches to UK Independence Party
Comments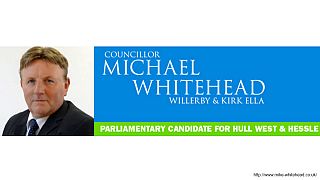 It is a boost for the UK Independence Party of Nigel Farage, just a week after the British election campaign got underway.
A candidate for the ruling Conservatives in the north of England has switched his support to Farage's UKIP party.
Mike Whitehead was the candidate in Hull West and Hessle, a safe Labour seat.
The move appears to be the result of an internal row in the constituency, and there is a dispute over whether the candidate defected or was sacked.
UKIP and the main Labour opposition party have described the switch as a blow to Prime Minister David Cameron.
Two Conservative MPs had already defected to UKIP last year.
The election on May the 7th is expected to be one of the closest in years, with the Conservatives and Labour neck and neck in the opinion polls.
#Ukip defector Mike Whitehead was sacked last week, had threatened to stand as independent, say Conservatives http://t.co/TY0iurAQxH#hull

— Dave Williams (@realdavedoubleu) April 6, 2015
Memo from Lynton: Quick! Say we sacked him before he went UKIP. http://t.co/GR32cWPJAK

— Ron Moore MP (@RonMooreMoreRon) April 6, 2015
Statement on Mike Whitehead, sacked last week pic.twitter.com/o2JXSTLLwO

—

CCHQ

Press Office (@CCHQPress) April 6, 2015
UKIP claiming if Mike Whitehead sacked why was his profile still on Conservatives</a> website until this morning. <a href="http://t.co/JRbzbHQizP">pic.twitter.com/JRbzbHQizP</a></p>&mdash; Darren McCaffrey (DMcCaffreySKY) April 6, 2015