No clear winner emerges from UK TV election debate
Comments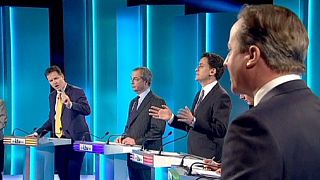 "No clear winner" was a common verdict after the main TV debate before Britain's highly unpredictable general election on May 7.
In an unusual format, seven party leaders went head to head on stage in front of the cameras in a studio near Manchester.
The election itself is described as the closest since the 1970s. Opinion polls suggest David Cameron's Conservatives and Ed Miliband's opposition Labour Party are neck-and-neck with neither on track to win a majority.
The two main contenders for prime minister clashed over the economy.
Cameron had recently warned of 'economic chaos' should Labour be elected. The current occupant of No 10 Downing Street again went on the attack over the Labour party's record in government before 2010, arguing that its policies would mean more high taxation and high spending.
"I think if we go back to the tax, the waste, the spending and the debt, all the things that got us into a mess in the first place, we wouldn't help working people, we'd hurt working people," David Cameron said.
Labour accuses David Cameron's ruling Conservatives of favouring the City and the well-off.
Its leader Ed Miliband has previously accused the Conservatives of failing to tackle corporate tax avoidance, in particular alleging that hedge fund managers are big donors to the Conservative Party.
"You haven't acted on the tax havens, you haven't acted on the hedge funds. Now you have to ask yourself at home, why won't David Cameron act on those hedge funds? They fund his party, he won't act," Miliband said as he turned on his rival.
The Conservatives are also under pressure from the UK Independence Party, whose big argument is that Britain's EU membership leaves the country powerless to stop high levels of immigration from elsewhere in Europe.
"Since World War Two we've operated with net migration into Britain at an average of about 30,000 a year. It is now net 300,000 people a year. It's ten times anything this country has had to live with since 1945," UKIP's leader Nigel Farage told the audience.
The Conservatives argue that a vote for UKIP will be self-defeating for those who want to curb immigration – because a split right-wing vote would hand Labour victory at the election.
"The problem with Nigel in the end is ultimately Nigel you're just the back door to a Labour government which would give us open door immigration which is not what this country wants," Cameron said.
Ed Miliband was quick to dismiss the suggestion that Labour was soft on immigration: "David I'm wondering what world you live in," he said to Cameron.
Some of the fiercest clashes saw Cameron lock horns with his coalition partner Nick Clegg of the Liberal Democrats, which trails poorly in many opinion polls. Clegg alleged that Cameron planned to cut funding earmarked for schools, which the Conservative leader denied. He in turn accused the Lib Dem leader of a selective "pick and mix" approach to decision-making within the coalition.
With no knock-out blows, and no gaffes from any of the party leaders, four post-debate opinion polls gave four different winners.
One poll by YouGov said Scottish nationalist leader Nicola Sturgeon had won, another survey by ICM said Labour's Miliband had narrowly triumphed, a third ComRes poll said Cameron, Miliband and UKIP leader Nigel Farage had come joint first, while a fourth survey by Survation said Cameron and Miliband had both won.
Next month's election remains wide open.