Gunmen attack university in Kenya close to the border with Somalia
Comments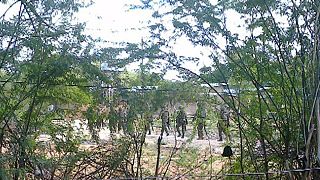 Gunmen have launched an attack on a university campus in north east Kenya, killing at least 14 people and wounding at least 65 others.
Somali Islamist group al-Shabaab has claimed responsibility for the attack and says it is holding Christian hostages inside.
Heavy gunfire and explosions were heard at Garissa University College close the frontier with Somalia.
It is believed two security guards were among those killed while two police officers and a student are being treated for gunshot wounds.
One local police officer said he had counted 14 dead bodies being carried out of the campus. "We are finding it difficult to access the compound because some of the attackers are on top of a building and are firing at us whenever we try to gain entry," the police officer added.
Witnesses say the assailants targeted a mosque during morning prayers.