Volvo Ocean Race: Dongfeng falls foul at Cape Horn
Comments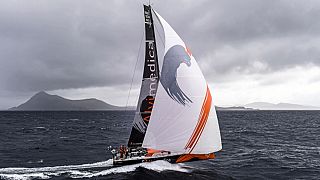 The American Turkish vessel AlvinMedica was the first to pass Cape Horn on the fifth leg of the Volvo Ocean Race but the day's been dominated by the fate of the joint leaders Dongfeng Race Team.
They were forced to suspend racing early in the fifth leg when their mast broke in the middle of the Southern Ocean.
It could hardly have happened at a worse position for the Chinese boat, some 240 nautical miles (nm) from Cape Horn in southern Chile, one of the most remote places on Earth.
Fortunately, none of the nine-strong crew on board were injured and the team are now investigating whether they can continue after making repairs in Argentina.
Azzam, team Abu Dhabi, currently lead with Spain's Mapfre third.
The race began in the Spanish city of Alicante in October and finishes in Gothenburg, Sweden, in June.