Yemen: Air strike kills at least 40 people at camp, say aid workers
Comments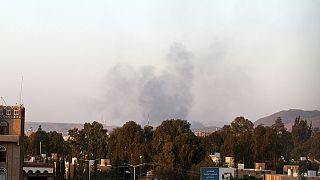 As Saudi Arabia continues its air campaign against Houthi rebels in Yemen, aid workers claim a strike has killed at least 40 people.
Yemen's state news agency, which is under control of the Houthis, said the northern Haradh camp for displaced people was hit by Saudi planes.
But the country's foreign minister denied that, saying the explosion was caused by rebel "artillery strikes." He is also accused the Houthis of other tactics.
"They are always trying to have what is called a human shield. Houthis are going to places where there is some population or residential houses and they are trying to put weapons there," said
Riyadh Yaseen.
Saudi Arabia said it was seeking clarification of what happened at the camp.
The Kingdom has launched its air campaign in conjunction with Sunni allies in support of president Abd Rabbu Mansour Hadi, who is facing a sustained challenge from the Shiite rebels.
He recently fled Yemen for Riyadh, as the Houthis set their sights on Aden, where he had taken refuge.