Six world powers to make a final push for a deal over Iran's nuclear programme
Comments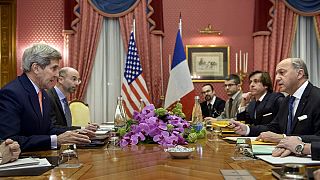 Foreign ministers from six world powers and Iran hold their first full meeting today as a deadline to reach a deal over Tehran's nuclear programme moves closer.
....it has to be a deal which puts the bomb beyond Iran's reach...
Iran and the so-called P5+1 – the US, Russia, China, Britain, France and Germany – hope to reach a rough deal by the end of March and a final agreement by June 30.
So far bilateral talks are said to have made some progress but several sticking points remain.
They appear to be how quickly sanctions will be lifted against Iran and what will happen in later years of the agreement, including Iran's capacity to conduct nuclear research and development.
Although there has been much uncertainty over whether a deal will be reached, on Sunday the US State Department's Persian language spokesman Alan Eyre was relatively optimistic when he spoke to euronews:
"It's time to decide and we are hopeful that before this deadline, we would be able to reach a comprehensive agreement about the fundamental issues."
Compromises have been made along the way by both sides however, the bottom line remains the same according to British Foreign Secretary Philip Hammond:
"It's in everybody's interest that the deal does get done but it has to be a deal which puts the bomb beyond Iran's reach, there can't be any compromise about that."
While the six world powers are ready to make a final push for a deal at the talks being held in the Swiss city of Lausanne, Israel which feels especially threatened by the possibility of a nuclear-armed Iran, has again warned against it.