Tunisia: Massive anti-terror march after Bardo Museum massacre
Comments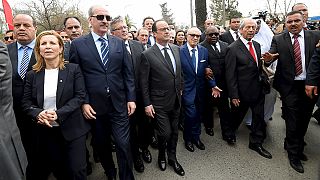 "Tunisia is free! Terrorism out!"
We are all united against terrorism
That was the message from tens of thousands in the capital where, amid tight security, citizens joined by world leaders have marched to denounce Islamist militants after the deadly Bardo Museum attack.
French President Francois Hollande was there. France marched after its Charlie Hebdo killings in January.
French victims – one of whom has just died from her wounds – were among 21 foreign tourists and a policeman killed in the March 18 massacre in Tunis.
"We are all against terrorism and violence. We are all Bardo. We are all Charlie," said one woman in the crowd.
"Tunisia loves democracy and freedom. No to terrorism, down with terrorism."
"We have come here to heal the country's wounds," another marcher said.
"We are all united against terrorism."
Tunisians rallied under the slogan "Le Monde est Bardo" (The World is Bardo) in a country praised as a peaceful democratic model since leading the first Arab Spring uprising in 2011.
One of the most secular nations in the Arab world, Tunisia has mostly avoided violence in the four years since the toppling of autocrat Zine El-Abidine Ben Ali.
In contrast with Libya, Yemen and Syria which have plunged into war and chaos, it has adopted a new constitution and held free elections.
But the Bardo massacre was one of the worst attacks in its history.
Japanese, Polish, Spanish and Colombian visitors were among those killed in the attack, which the government says was aimed at destroying Tunisia's vital tourism industry.
Italy's Prime Minister Matteo Renzi and Palestinian President Mahmoud Abbas were among other foreign leaders honouring Bardo Museum victims on Sunday.
Hours earlier, Tunisia's government said its forces had killed nine members of a group suspected of carrying out the attack.