New reports claim Airbus crash voice recorder reveals pilot 'was locked out of cockpit'
Comments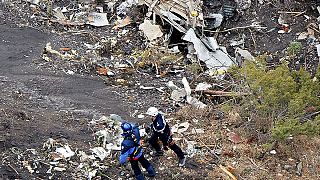 French emergency workers have removed the first bodies from the mountainside where a Germanwings Airbus crashed on Tuesday killing all 150 people on board.
They were taken by helicopter to the nearby town of Seyne-Les Alpes.
Meanwhile crash investigators say they have extracted what's described as "usable data" from one of the plane's two "black boxes" found among the debris.
In a special report the New York Times claims that sources close to the investigation have revealed there is evidence from the recordings showing that one of the pilots left the cockpit and could not get back in before the flight went down.
It said the pilot outside is heard knocking at the door but there is no answer from his colleague.
"The guy outside is knocking lightly on the door, and there is no answer," the paper reported, citing an unnamed senior military investigator. "And then he hits the door stronger, and no answer. There is never an answer."
The investigator added: "You can hear he is trying to smash the door down."
Germanwings has not revealed any information on the two pilots other than saying that the plane's captain had 6,000 hours flying time in A320s.
An Airbus video indicates that the plane doors have an emergency access code to allow crew to enter the cockpit in the event of the pilots becoming incapacitated.
But the pilot should be able to override the code and lock out his colleagues if he chooses.
Euronews has not been able to confirm that the Germanwings plane was fitted with a standard door.
And France's BEA air incident investigation bureau has cautioned that it is still far too early to draw meaningful conclusions on why the plane went down.
The retrieval of the recordings comes as more than 300 police, fire brigade and dozens of forensic experts have been mobilized to help in the recovery operation.
Two small chapels have been erected in Seyne-les Alpes where the victims' families are expected later today ( March 26 ).