European leaders visit scene of Germanwings air crash
Comments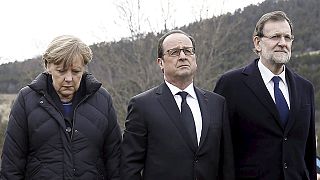 French President Francois Hollande and German Chancellor Angela Merkel have flown over the remote region in the French Alps where a Germanwings plane crashed yesterday – killing 150 people.
They were later joined by Spain's Mariano Rajoy in the village of Seyne-les-Alpes, the headquarters of the search operations.
The leaders took time to thank the emergency teams who are combing the mountainous terrain, which has been left strewn with debris.
Their visit came as investigators confirmed that usable audio files have been extracted from the cockpit voice recorder of the Airbus A320, which was found yesterday.
But it is too early to know what brought down the jet, en-route from Barcelona to Dusseldorf.
"We think about the victims of German origin, but also those from other countries. This is a real tragedy and our visit here has shown this once more," said Angela Merkel.
Mariano Rajoy added: "We are going to work together and. We are up to the task in such difficult and complex circumstances, that have affected so many."
"The French people are by your side with this investigation. The same as the other countries affected, more than 15 had citizens on the plane," said Francois Hollande.
The leaders were also due to meet families of the victims at a service being held in the area.
Speaking from Le Vernet, close to the crash scene, euronews correspondent Patrick Wauthier said: "From this meadow in the village of Le Vernet, we can see the mountains where the crash happened, just three kilometres away. Hollande, Merkel and Rajoy have taken a look at the area, which looks so peaceful from here. But from a helicopter, the scene is very different."