Germanwings crash: plane 'pulverised,' says journalist
Comments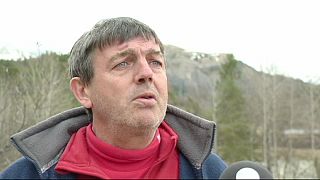 A French journalist, who says he was the first reporter to arrive at the scene of the Germanwings air crash, has told euronews that it appears the plane was "pulverised."
Nicolas Balique, from Marseille, has been recalling what he saw in the French Alps on Tuesday, after the Airbus A320 went down during a flight from Barcelona to Dusseldorf.
"I had the impression that the plane couldn't be there. I said to myself it's not possible, it's not here or where this could have happened. There was nothing, but when I got nearer, just 300 metres away, I found small parts of the wreckage," he explained.
"I had the impression the plane was pulverised when it smashed into the mountain. I think it's unimaginable for the families.
"I repeat the emotion I had, it's unimaginable that these lives have been pulverised. This is a plane, but these are also lives."