How pilot could have locked himself in cockpit of doomed jet
Comments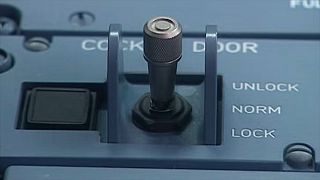 The pilot who reportedly found himself alone in the cockpit of the doomed Germanwings jet may have been able to lock colleagues out of the flight deck, it's emerged.
An investigator has said the flight deck recorder indicates one of the pilots had left the cockpit prior to its fatal dive and was unable to get back in, according to The New York Times.
A promotional video by Airbus on a new door-locking system could provide clues as to how the pilot could have prevented colleagues from getting back into the cockpit.
The footage reveals airline staff can access a locked cockpit by entering a passcode onto a cabin keypad. This is designed to allow emergency access should the pilots become incapacitated. If the correct code is entered the door goes into a 30-second unlocking procedure. But this, crucially, can be overridden from the cockpit.
The doors are heavily reinforced to prevent unauthorised access following the hijackings of September 11 in the US when terrorists took control of planes.
There is however no confirmation this door was being used on the Germanwings Airbus A320 that crashed in the French Alps on Tuesday.