Search resumes for clues as to why Germanwings plane crashed in French Alps
Comments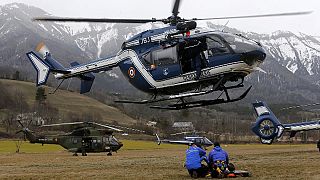 Investigators in France have resumed sifting through the wreckage for clues as to why a Germanwings airbus crashed into the French Alps killing all 150 people on board. The cockpit voice recorder has already been recovered.
Flight 4U 9525 was en-route from Barcelona to Dusseldorf when it came down in a rugged mountainous area while flying over France. No distress call was received from the aircraft.
French Interior Ministry spokesperson Pierre Henry Brandet explained how the investigation was going: "We are entering a phase of criminal investigation which will be long. It has to be done in a very precise way, with meticulous detail in order to find the bodies, to allow for their identification, and to give them back to their families, while of course collecting the evidence which will help advance the investigation."
Teenagers among the dead
The inaccessible nature of the terrain plus bad weather means the recovery of the bodies is likely to take some time.
According to airline officials, 67 Germans had been on the flight including 16 schoolchildren and two teachers returning from an exchange trip to Spain. There were also two babies.
Forty-five passengers had Spanish names and two Australians are known to be among the dead.
Britain's foreign office has said they are still checking passenger information for British nationals.
Airbus rapidly lost altitude
The plane is thought to have started descending one minute after reaching its cruising height and continued losing altitude for eight minutes before losing contact with air traffic control. Experts said that while it had descended rapidly, the plane did not seem to have simply fallen out of the sky.
It was the first disaster involving a large passenger jet on French soil since a Concorde crashed outside Paris 15 years ago.
The Airbus A320 is said to be the workhorse of the skies, with a good safety record, and is used by airlines around the world. Data from the Aviation Safety Network says the crash has been the third most-deadly involving the model including one in 2007 when a TAM Linhas Aereas A320 went off a runway in Brazil killing 187 people. Tuesday's crashed jet is believed to have undergone a routine maintenance check as recently as Monday.
How it unfolded: Germanwings plane crashes in French Alps