Germanwings press conference mystery: what wasn't he supposed to say?
Comments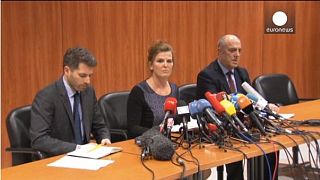 A Lufthansa spokeswoman has sparked a mystery around the crash of flight 4U9525.
A journalist at a press conference asked "Germanwings this morning explained something about the flight, what do you think of that"
It's unclear to what she was referring but the Lufthansa spokeswoman seemed to understand.
Heike Birlenbach, Lufthansa vice-president for Europe blocked the question with a fairly standard 'No Comment' but then turned to her advisors and added in German.
"That was what he was not supposed to tell them."
She seemed unware that the microphone was picking up her aside.
The comment could have been related to a Tweet sent by Germanwings once rumours of the crash began circulating. The Tweet suggested that the airline became aware of the incident some time after the media began reporting it.
INFO: We have recently become aware of media reports speculating on an incident though we still do not have any own confirmed information…

— Germanwings (@germanwings) March 24, 2015