Germanwings crash: Witnesses describe moment of impact
Comments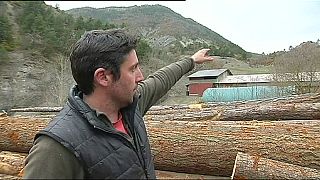 France is reeling following the first plane crash on its soil in 15 years.
In the alpine town of Barcelonnette, near to the crash site, eyewitnesses have recounted the moment Germanwings flight 4U9525 plummeted to the ground.
Several spoke of seeing a plane in distress moments before hearing a huge explosion.
"I saw it appear over the ridge of the mountain. And I soon realised it couldn't possibly get far," said one man.
Another woman described an explosion of the kind heard when dynamite is used to clear heavy snowfall in the mountains.
"We heard a huge din and the sound of a very powerful plane engine, echoing around the mountains behind us," she said.
"Then I heard the sound of the impact – a very loud sound, similar to one you might hear when dynamite is exploded to cause controlled avalanches."
While another man saw smoke billowing from the site of the accident:
"We were chopping wood when we heard the sound of the impact and afterwards we saw smoke rising," he recounted.
"And people started saying the plane had hit the ground… And we saw the smoke rising up there."
An investigation into the cause of the crash is expected to take several months.