Spain falls silent in tribute to Germanwings crash victims
Comments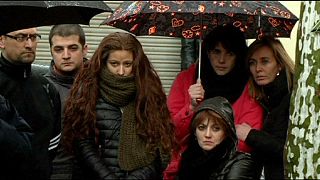 A moment of silence was observed on Wednesday afternoon at various sites across Spain, including in Madrid and Barcelona, for the Germanwings crash victims.
The aircraft, an Airbus A320, crashed in southern France on Tuesday, killing all 150 people on board.
It was on route from Barcelona to Dusseldorf when it went down on a mountainside high in the French Alps.
In Llinars del Valles, a small town near Barcelona, tributes were paid to 16 German teenagers and two teachers on the plane.
They had been flying home after studying at the town's Giola High School as part of an exchange programme.
Llinars del Valles' Mayor, Marti Pujol i Casals said: "There are other (German) schoolchildren who are about to leave or have already left, and I think they will leave by train because they do not want to board a plane, which is understandable."
Relatives of some of the Spanish passengers waited at a hotel near Barcelona El-Prat Airport to be told when they will be able to travel to near the crash site.
The Spanish government said on Wednesday afternoon that 51 people with Spanish names were on the plane, although Germanwings had cited a lower number earlier in the day.