Reopening of Tunisia's Bardo Museum delayed for 'security reasons'
Comments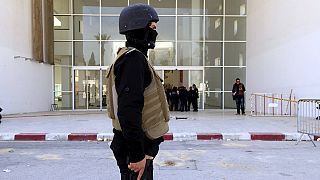 Tuesday's planned reopening of the Bardo Museum in Tunis has been put back at the last minute for security reasons, according to the museum's management.
"We were surprised at the last minute but, for security reasons, we cannot received a large number of visitors according to the interior ministry," the Bardo's communications chief Hanene Srarfi told AFP.
An official ceremony was planned instead for Tuesday afternoon, but only for the media and invited guests.
No date has been given for members of the public to be able to visit again.
The authorities had said at the weekend that the Bardo would reopen on Tuesday.
The self-proclaimed Islamic State group claimed it was behind the atrocity in which two gunmen went on the rampage, killing 20 foreign tourists and a Tunisian policeman.
On Monday six police chiefs were sacked amid controversy over security at the museum, which is in the same complex as Tunisia's parliament.
There have been fears that the attack could damage the country's vital tourist industry.
The authorities have vowed to resist: one large red sign prominently displayed in a Tunis street has the following slogan under the country's flag: "Tunisia is stronger than terrorism".
Several thousand activists were due to gather in Tunis for the start of the 2015 World Social Forum, the annual international gathering which aims to seek alternative solutions to global problems.