Argentina: Nisman supporters call for justice on anniversary of his suspicious death
Comments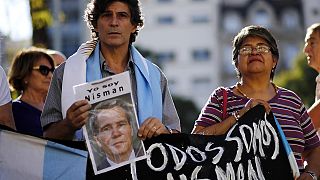 Hundreds of protesters in Buenos Aires called for justice as they marked the two-month anniversary of the death of federal prosecutor, Alberto Nisman.
He was found dead in January, a day before he was to testify about allegations that Argentina's President Cristina Fernandez de Kirchner orchestrated a secret deal with Iran over the 1994 bombing of a Jewish community centre.
Those gathered outside a court house urged Argentinians to take to the streets and demand justice.
Nobody has been arrested for Nisman's death and polls show de Kirchner's popularity has taken a hit eight months before presidential elections.
Argentines have taken to the streets in their hundreds of thousands since the death of Alberto Nisman. But for what? http://t.co/uMED9UWd3V

— The Conversation (@ConversationUK) February 25, 2015