Tunisia: seventeen foreign tourists among 19 people killed in museum attack
Comments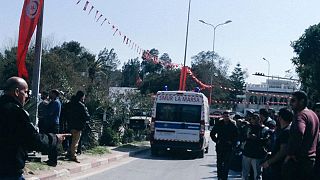 Seventeen foreign tourists were among 19 people killed in a gun attack on Tunisia's national museum on Wednesday, the country's prime minister said.
Premier Habib Essid said Poles, Italians, Germans and Spaniards were among the dead.
Armed men opened fire on tourists getting off buses outside the Bardo Museum in Tunis.
A number were held hostage in the building but, after a two hour siege, all were freed in a raid by security forces.
National TV reports said two gunmen had been killed.
A policeman and a Tunisian citizen were also among the dead.
Gunmen launched the attack on the Bardo Museum next to Tunisia's parliament which was reportedly discussing anti-terrorism legislation at the time.
Committee meetings were suspended as MPs were told to retreat to a safe location.
As it happened: Tunisia parliament attack
​
PHOTO: A Photo taken by one of the hostages in the Bardo Museum. #Tunisia#Hostage#Developingpic.twitter.com/eq07QbNmsq

— News_Executive (@News_Executive) March 18, 2015
Around 100 tourists were in the museum when the attack took place, an Interior Ministry spokesman said.
Many escaped, running for shelter, covered by security forces firing rifles in the air, live television footage showed.
The area was sealed off as anti-terrorist forces entered the building.
The deadly attack on such a high profile target is a huge blow for the small North African country that relies heavily on European tourism and had so far avoided major militant violence since its 2011 uprising to oust autocrat Zine El-Abidine Ben Ali.
However since the revolution, several militant groups have emerged in Tunisia.
Authorities estimate 3,000 Tunisians have joined jihadist groups in Syria and Iraq and some have returned home, increasing government fears of an attack on Tunisian soil.