Turkish coastguard opens fire to stop Syrian migrant ship
Comments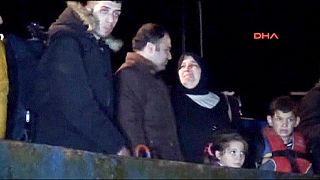 Italy has thanked Turkey for intercepting a cargo ship carrying mostly Syrian migrants.
The Turkish coastguard fired on the engine room to prevent the ship from fleeing.
The authorities found 337 people, including 85 children and 68 women, inside the Turkish-flagged vessel, which ignored calls to stop in the Dardanelles Strait.
They were taken ashore at Gelibolu for questioning and health checks.
Reports in Turkish media cited increased cooperation between Italy and Turkey to prevent "ghost ships" from illegally carrying migrants to Italy.