Libyan peace talks falter as fighting continues
Comments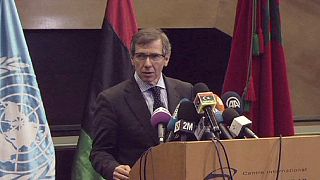 There are fears of an early and fruitless end to the UN's Libyan peace talks.
Delegates convened again on Friday as the second week ended to find that the representatives of the internationally-recognised Tobruk government had not made the trip to Morocco.
UN mediator Bernardino Leon did meet with the rival Tripoli General National Congress delegates, who have agreed to talks about Libya's future for the first time.
The Tobruk government had been asking for a postponement for the last two days. The UN has now agreed to this, and says the talks will resume next week.
While a government of national unity is the goal of the talks on the ground there is little sign of unity. Fierce factional fighting continues, with Tripoli-loyal Libya Dawn forces celebrating taking positions from Tobruk-loyal Zintan militia.