Fears of Palestinian-style deadlock for Syrian refugees
Comments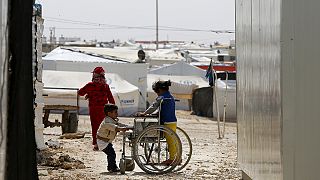 Syrian refugees living in the huge camp at Zaatari in northern Jordan say they see little sign of a solution to the war or their own plight.
Today the settlement resembles a town more than a camp. It has streets, shops and markets; residents run their own businesses.
Tents have been replaced by caravans, and the place has an air of permanence.
"What we can say is that some four years after the crisis we've got hundreds of thousands of Syrian refugees who are probably still no closer to going home than what they were when they first crossed the border," said Andrew Harper, the UNHCR's representative to Jordan.
According to Harper, the international community has provided a great deal of support but it is still not sufficient to satisfy the refugees' needs, adding that they only received 60 per cent of what they required last year.
In December, a lack of funds forced the United Nations to suspend handouts of food vouchers to 1.7 million Syrian refugees in Jordan, Lebanon, Turkey, Iraq and Egypt.
As for the future, people in Zaatari fear a Palestinian-style deadlock that could leave their situation unresolved for years to come.
"As refugees, we've been disappointed for the past four years as the international community is unable to find a solution to the Syrian war," said one Zaatari resident, Mohammad Al-Omari. "It's unable to find a solution for refugees and this has made us pessimistic… We're afraid of being in a similar situation to the Palestinians."
Of an estimated four million Syrians who have fled their country, Jordan says it has taken about 1.3 million refugees.
Most of the Zaatari camp's residents come from the city of Daraa in southern Syria.
At the outset they hoped their plight would be temporary.
But in the words of Jan Egeland, head of the Norwegian Refugee Council (NRC), the world is "not even close to grasping the magnitude" of the humanitarian crisis, and "may have to live with the aftermath of the Syrian conflict for generations".