British schoolgirls helped by coalition spy from Syria, says Turkey
Comments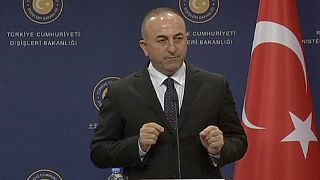 The man who allegedly helped three British schoolgirls join ISIL militants has been detained in Turkey, but mystery shrouds his motives.
Mobile phone footage released by local media and apparently filmed by Mohammad Al Rashed who went under the alias Dr. Mehmet Reşit shows him helping the girls, but he claims he was also a spy working against ISIL.
Turkey's Foreign Minister was reticent to give many details of the suspect's activities.
"There are people who work for both sides, people who work for intelligence services," he explained. "The recent example is the person who helped three British girls to cross into Syria. He works in the intelligence services of a country in the coalition. I am not saying he is a citizen of this country. He is a Syrian citizen but he works for the intelligence services of a country that is a member of the coalition."
In police testimony obtained by a Turkish news agency the suspect claimed to have identified fighters he had helped enter Syria at the Canadian embassy in Jordan, but Canada denies he was an agent.
Having flown from London to Istanbul in February, little is known of the girls whereabouts since they crossed the Turkish border with Syria.