South African journalist mugged minutes before he went live on-air
Comments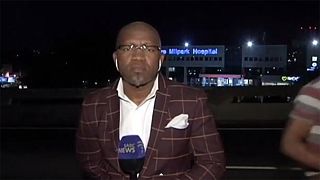 Normally used to breaking news, a South African TV journalist became the news when he was mugged as he was about to go live on-air.
Despite the presence of the cameras the muggers insisted on robbing Vuyo Mvoko. He eventually handed over his phone after being threatened with a gun. Off-camera the thieves took several mobile phones and laptops.
Mvoko had been waiting to report live from outside a Johannesburg hospital where Zambian President Edgar Lungu was receiving treatment.
The video of the mugging has gone viral after being uploaded to the internet.