French experts help Argentina probe deadly 'reality TV' helicopter crash
Comments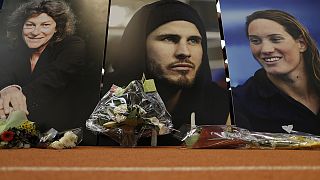 Experts in Argentina have been joined by colleagues from France in the search for clues as to what caused two helicopters to crash during the filming of a TV reality show.
Argentina's Air Accident Investigation Board said it was too early to determine if human error, mechanical failure or something else was to blame for Monday's accident that claimed ten lives in the remote and rugged western province of La Rioja.
There were no survivors.
Eight of the victims were French, including celebrated yachtswoman Florence Arthaud, 57, swimmer Camille Muffat, 25, who won gold in the 400 metres freestyle at the 2012 London Olympics and boxer Alexis Vastine, 28, who won bronze in the 2008 Beijing Games.
At France's National Institute for Sports in Paris, in the presence of grieving family members, tributes were paid to the trio.
And the mourning is set to continue with French Sports Minister Patrick Kanner calling for the three athletes to be remembered this weekend at sporting venues nationwide.
France has launched a manslaughter investigation – an automatic procedure when its nationals are killed abroad.
Amateur footage taken from the ground showed the two helicopters flying in tandem at low altitude when one appears to deviate into the path of the other. Both helicopters then plunge to the ground.
As well as the trio of sporting stars, five members of the French production crew for the adventure show "Dropped" were killed, as were the two Argentinian pilots.