French sports stars among 10 killed in Argentina helicopter crash
Comments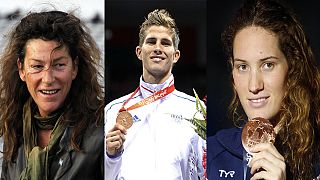 A collision between two helicopters in Argentina has left ten people dead.
Among those killed were eight French nationals including three sports personalities taking part in a reality adventure show for one of France's main TV channels.
It is unclear what caused the accident which happened in good weather.
Wreckage from the helicopters came down in La Rioja province near the village of Villa Castelli where the survival competition had been held for three years.
El accidente fuè a 150 metros de la plaza principal de #VillaCastelli Ya apagado el fuego, los muertos serian 9. pic.twitter.com/6UB7WH6rAm

— Gabriel González (@LaRiojaGabriel) March 9, 2015
Both Argentine pilots were also killed.
The cast of this season's show had included several celebrated sports men and women. Fifty-seven-year-old yachtswoman Florence Arthaud was one.of those killed.
So too was 25-year-old swimmer Camille Muffat who won gold in the 400 metres freestyle at the 2012 London Olympics.
Twenty-eight-year old boxer Alexis Vastine who won a bronze in the 2008 Beijing Olympic games was also among the victims.
Members of the production crew filming the show, called 'Dropped', were also
killed in the collision.
French TV channel TF1 issued a statement expressing sadness and solidarity for the families of the victims. "Dropped" involves contestants being left in the wilderness and having to use their skills to find their way back to civilisation.