'Dropped' helicopter crash: what we know
Comments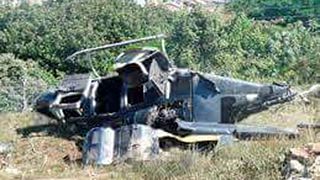 What happened?
Two helicopters, each carrying a pilot and four members of cast and crew of the French reality TV show Dropped, appear to have collided above the rugged western province of La Rioja near the Andes mountains in Argentina.
Both aircraft plunged to the ground killing all those on board.
Who were the victims?
Celebrity yachtswoman Florence Arthaud, 57, was one of the first women to carve a place for herself in the world of sailing and in 1990 secured the record for the fastest solitary crossing of the North Atlantic
Swimmer Camille Muffat, 25, won 400 metres freestyle gold at the 2012 London Olympics.
She posted a last Facebook post from Argentina last Friday: "I am doing fine. Leaving for Ushuaïa this morning. See you soon."

Boxer
Alexis Vastine
, 28, won bronze at the Beijing 2008 Olympics.
Laurent Sbasnik (cameraman), Lucie Mei-Dalby (journalist), Volodia Guinard (project manager), Brice Guilbert (cameraman), Edouard Gilles (sound engineer) were all part of the television crew working on the project.
The two Argentinian pilots Juan Carlos Castillo and Roberto Abate also died.
Reactions
Former Arsenal football star Sylvain Wiltord, who was also a contestant on the show Tweeted that he was at a loss for words over the death of his friends :
Je suis triste pour mes amis , je tremble , je suis horrifié , je n'ai pas de mots , je ne veux rien dire #Tristesse#Pleurs#JesuisàParis

—Sylvain Wiltord (@sylwiltord) March 10, 2015
French Olympic canoeing champion Tony Estanguet declared that all of French sport was in mourning.

Effondré, le sport français en deuil. Hommage aux grands champions légendes. Tellement triste pour mes copains. Condoléances aux familles.

— Tony

ESTANGUET

(@TonyESTANGUET) March 10, 2015
"The sudden loss of our compatriots is an immense sadness, said French President Francois Hollande:
10 personnes sont décédées dans un accident en Argentine parmi lesquelles F. Arthaud, C. Muffat et A. Vastine pic.twitter.com/FyDv0Qroug

— Élysée (@Elysee) March 10, 2015
Nonce Paolini the head of French channel TF1, which was to broadcast the show, expressed "enormous sadness" on behalf of the company and said all his staff "shared the pain in these terrible times of the families those close to the victims"
A spokesman for production company ALP said "All our staff are distraught and feel the deep sorrow of the families and friends" of the deceased.
Thierry Braillard, French secretary of state for sport expressed "horror and disbelief".
L'horreur qui se transforme en incrédulité. ceux qui ont péri dans le crash RIP. Profondes pensées pour Camille, Florence et Alexis.

— Thierry Braillard (@Th_Braillard) March 10, 2015
The TV show
The concept of Dropped which was in its second week of filming, is that two teams are taken by helicopter to a remote location and "dropped" there. They must find their way to civilization, without maps, and call the show's producer to be rescued. The show was originally conceived in Sweden.