France mourns as investigators are sent to site of fatal helicopter crash in Argentina
Comments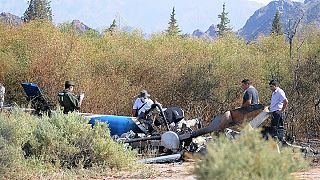 France is sending its own investigators to Argentina to find out what caused a fatal helicopter collision during the filming of a reality TV show.
Argentine civil aviation investigators are already combing the site looking for mobile phones, documents and other charred items.
Witnesses watching from below have described one helicopter moving too close to the other implying human error, but that is as yet speculation.
Ten people died in the incident – rescuers were driven back by the fire which erupted when the aircrafts crashed.
Along with the two Argentine pilots, five members of the television production crew perished. They have been named as : Brice Guilbert, Volodia Guinard,
Lucie Mei-Dalby, Laurent Sbasnik and Edouard Gilles. The programme called "Dropped" had run of three seasons.
President Francois Hollande has led tributes to the three French Olympians who also died:
Yachtswoman Florence Arthaud (57), Swimmer Camille Muffar (25) and Boxer Alexis Vastine (28.)
Their bodies have now been recovered from the wreckage.
A memorial for one of the victims, Alexis Vastine has already been held in his home town of Pont-Audemer as France mourns the three sporting stars.