France's Hollande says helicopter crash deaths are cause of 'immense sadness'
Comments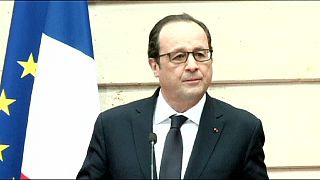 France's president says the deaths of three sports stars and seven others in a helicopter crash in Argentina is a cause of "immense sadness."
Olympic swimmer Camille Muffat, yachtswoman Florence Arthaud and boxer Alexis Vastine were killed when two helicopters collided during the filming of a French reality TV show.
"My thoughts obviously go out to these three champions who at one time made their country shine and today are dead," said Francois Hollande.
"I don't want to forget the seven other victims and their families who are mourning them."
Filming for the TF1 reality show has been suspended. Crew members and other contestants are said to be heading back to France.
"Our thoughts go to the bereaved families of our three great champions, but also the technical team which was with them," said Nonce Paolini, CEO of TF1.
"We don't know the circumstances, but what I can tell you is that, obviously, such a programme was made to bring happiness to all."
It is the second time in as many years that a reality show for TF1 has been hit by tragedy.
In 2013, a doctor committed suicide after a contestant on the 'Koh Lanta' endurance programme died.