Video shows Argentina helicopter collision as France mourns sports stars
Comments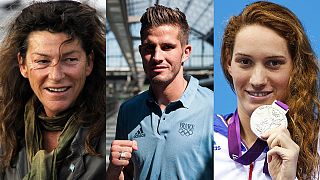 Amateur video uploaded to the internet appears to show the moment two helicopters collided in the Andes in Argentina, as the filming of a French TV reality show ended in tragedy.
My daughter was lucky to have a fantastic life which has come to an end too quickly
The film appears to back reports that the collision near Villa Castelli in La Rioja province happened in clear weather at an altitude of about 100 metres.
Experts from the French Land Transport Accident Investigation Bureau (Bureau d'Enquêtes sur les Accidents de Transport Terrestre, or BEA-TT) are on their way to Argentina to investigate the crash.
Questions are being asked about what the stars were doing on "Dropped", the reality show that leaves contestants to cope in remote locations.
"What were they going to do in that hell?" asked a headline in the current affairs magazine L'Obs (formerly Le Nouvel Observateur).
Tributes have been paid to the three sports stars who were among eight French nationals and two Argentine pilots who died.
Yachtswoman Florence Arthaud was known as the "Fiancee of the Atlantic" for her daring voyages, including a record for the fastest solitary crossing as she won the Route du Rhum in 1990.
Retired British sailor Dame Ellen MacArthur described her as "inspirational".
The father of swimmer Camille Muffat, Gold medallist in the 400 metres freestyle at the London Olympics, said she "loved adventure".
"My daughter was lucky to have a fantastic life which has come to an end too quickly," he told French media.
Her home town of Nice like the rest of France is in mourning.
Muffat also won silver and bronze medals at London 2012.
Alexis Vastine, bronze medallist at the Beijing Games in 2008, was known as the "cursed boxer" due to dubious refereeing decisions at successive Olympics.
He had his sights set on winning gold in Rio next year.
His family has now suffered a double tragedy: earlier this year his 21-year-old sister Célie was killed in a car crash. There is one surviving brother, Adriani, another boxer.
Among the other victims, Laurent Sbasnik (cameraman), Lucie Mei-Dalby(journalist), Volodia Guinard (project manager), Brice Guilbert, Edouard Gilles were all part of the television crew working on the project.
The two Argentinian pilots Juan Carlos Castillo and Roberto Abate also died.