Kraft claims World cup event in Lahti
Comments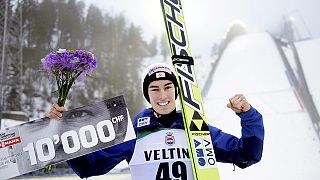 Austria's Stefan Kraft came from behind to edge out Germany's Severin Freund and clinch the ski jumping World cup event in Lahti on Sunday.
The Four Hills Tournament winner jumped 139.7 metres before clearing 144.8 metres on his second attempt giving him a combined total of 284.5 points, en route to his third victory of the season.
This result sees Kraft move within seven points of Peter Prevc in the overall standings. The 22-year-old just missed out on a podium finish as Norway's Anders Fannemel was third.
Noriaki Kasai and Anders Bardal finished fifth and sixth respectively.