Lynch mobs kill two sex attack suspects in India
Comments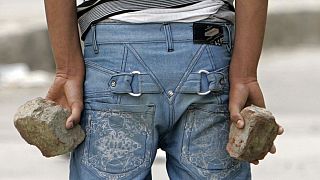 Lynch mobs in India have killed two suspected sex attackers in separate attacks in the space of 24 hours.
Dimapur, the main city in Nagaland state in India's northeast, is under curfew after a crowd several thousand strong stormed a prison.
The suspect was stripped naked, beaten, stoned and dragged through the streets till he died – as people took pictures with their phones.
The crowd is said to have included high-school students in uniform. A 25-year-old man who was part of the mob was reportedly killed by police who claimed they were trying to restore order.
On Friday the Hindustan Times reported that several local officials had been suspended as the Indian government ordered an investigation.
Earlier on Thursday, thousands of people took to the streets to demand that the authorities hand over the man – thought to be a Bangladeshi migrant accused of raping a local girl.
Tensions between the native Naga people and Bangladeshis have been high.
The decision by the Indian government to ban a BBC documentary film about the gang rape of a student has also brought the issue of sexual violence against women back to the fore.
The film, "India's daughters", features an interview with one of the men sentenced to death for the 2012 attack.
His lack of remorse has sparked outrage and more protests across India.
In the second lynch mob attack on Friday, a man accused of assaulting young girls at the Hindu festival of Holi was reportedly beaten to death in the northern town of Varanasi.
A local police chief told AFP that a group of young women had complained to their parents that they had been molested by a few men.