ISIL militants loot and destroy ancient Iraqi city, say tourism officials
Comments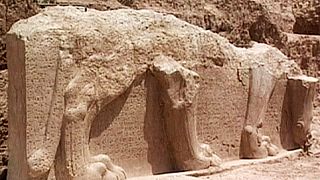 ISIL militants have started razing the ruins of the ancient Iraqi city of Nimrud, according to tourism officials.
They claim heavy machinery has been used to destroy the archaeological site, which is one of the country's most celebrated.
Founded in the 13th century BC, the ancient Assyrian city of Nimrud lies around 30 kilometres south-east of Mosul, which has been targeted by US-led airstrikes against ISIL.
In 2001, archaeologists discovered an ancient temple and two winged lions in Nimrud, which may be among the ruins destroyed by the militants.
Cuneiform writing indicated that the lions dated back to the reign of Assyrian King Ashurnasirpal II, who ruled the Assyrian Empire during the 9th century BC.
The writing also indicated that the building was a temple devoted to Ishtar, the ancient Iraqi goddess of love and war.
Nimrud was one of the four great cities of Assyria.
It is not the first time militants are said to have carried out a wrecking spree. Last month, video was released, showing what appeared to be the destruction of artifacts at a museum in Mosul.
One man featured said they had been ordered by the Prophet to get rid of the historic items on display.
Iraq's Ministry of Tourism says militants are defying the world with their destruction of antiquities.