Syria: Civilians pay heavy price amid fierce fighting for Aleppo
Comments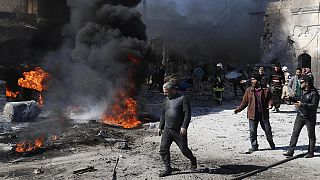 The battle for Aleppo is raging and civilians are paying the price.
Reports say at least 22 have been killed in a government barrel bomb attack as the tug of war for control of Syria's second city intensifies.
Images on social media purportedly show the aftermath.
It looks like revenge for Wednesday's blast at the regime's Air Force Intelligence headquarters in the city. Rebels are said to have detonated explosives from a tunnel underneath the building.
The blast and subsequent fighting have reportedly killed 34 people on both sides.
Away from the frontline, French President Francois Hollande hosted leaders of Syria's Western-backed political opposition.
And for the first time its leader announced that the departure of President al-Assad is no longer a pre-condition for peace talks.
But presenting this new strategy, Khaled Khoja, President of the Syrian Coalition, insisted:
"The fall of Bashar Assad was never a condition, not even at the Geneva talks, and yet the negotiations must be clear and aimed at ending this regime."
As the conflict's impact spreads further with foreign extremists heading home, Syria's President blamed Europe for failing to tackle jihadists.
"First, you need officials in Europe to have the will to fight terrorism. This is something we don't find until this moment," Assad said in an interview with Portuguese broadcaster RTP.
The weakness of Syria's mainstream opposition and tightening grip of Islamist militants has complicated diplomatic efforts to end the conflict that has killed some 200,000 people.