Europe needs to 'have the will to fight terrorism' declares Syria's Assad
Comments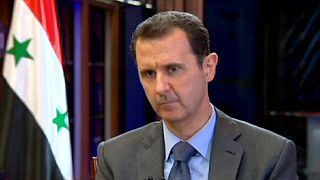 Saudi Arabia, Qatar and Turkey are the main supporters of jihadists, Syrian President Bashar al-Assad declared in an interview with Portuguese broadcaster RTP.
Speaking to journalist Paulo Dentinho, the leader highlighted the need, in his opinion, for Europe to do more in the fight against terrorism.
"First, you need officials in Europe to have the will to fight terrorism. This is something we don't find until this moment," he said.
"Second thing, is to have prudent policies. You can not have arrogant, stubborn officials that only adopted egotistical policies. Third, which is very important, fighting terrorism should be a value, should become a value. It cannot be thought of (as) opportunism."
Defiant as ever, #Syria's #Assad interview for @rtppt : "West has no will to fight terrorism" http://t.co/FKUbg1iSlipic.twitter.com/gKOoI1VcHm

— Rodrigo Barbosa (@RodaLarga) March 5, 2015
Amateur videos have been released, which appear to show militants attacking a government building in Aleppo, in the northwest of Syria.
Now, almost five years into the Syrian civil war, al-Assad criticised the United Nations Security Council for failing "to protect the sovereignty of different countries and prevent wars" and for not doing enough to protect civilians living through conflict.
Dentinho asked the president:
"What we have seen until now are several attempts to have a peace conference, but all have failed. What we have until now are talks about talks. What can break this deadlock?"
To which al-Assad replied:
"This is a failure of the international system, this international system that's been presented by the United Nations and the Security Council and (which) is supposed to solve problems and protect the sovereignty of different countries and prevent wars. Actually, it has failed in doing so. So, what we have now is a failed United Nations, failed to protect our…international citizens, including Syria, Libya, Yemen and other countries."