Memorial march: "My hope for Russia has died with the death of Boris Nemtsov"
Comments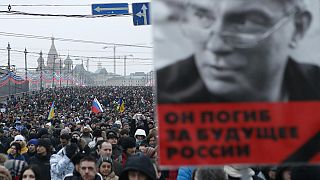 It was a massive show of solidarity rarely seen on the streets of Moscow.
Tens of thousands turned out on Sunday for a march in memory of the murdered opposition figure Boris Nemtsov.
The former deputy prime minister and fierce critic of Vladimir Putin was gunned down just 200 metres from the Kremlin.
Many held up his photo and the message "We are not afraid".
One woman on the march told euronews: "Boris Nemtsov was a bright and charismatic politician.
With his death my hope has died, my hope for a future Russia where human rights are respected and there is no corruption. Because that's the future we all hope for, everyone here today."
Nemtsov was murdered just before he was due to lead a big rally against the war in Ukraine.
One marcher, who wore the Ukrainian flag, told euronews: "Nemtsov was of the view that Russia has no role to play in Ukraine and is not allowed to interfere in its internal affairs, whether secretly or openly.
"I supported Nemtsov from this point of view, and that's why I brought along the Ukrainian flag."
Right under the gaze of officials in the Kremlin, tens of thousands slowly marched, with anti-Putin slogans chanted.
Our correspondent in Moscow, Andrei Belkevich, reported:
"For a long time the Russian opposition couldn't get permission for their March the 1st rally, and then it was approved, but only if held far away from the city centre.
"But the murder of Boris Nemtsov left the authorities with no choice: they had to allow opponents of Vladimir Putin to rally right here, next to the Kremlin, and near the spot where one of the most prominent opposition leaders was killed."